If you work on a poorly designed welding table, it can get really messy and challenging to finish your projects.
Professional welders, but also hobbyists, can benefit from a good welding table.
Luckily, you can find many options on the market, but choosing only one can be challenging.
That is why you can refer to my list and find the best welding table for you with the help of my guide and reviews.
Highest Rated Best Welding Tables (by Customer Reviews)
---
1
Chicago Electric Welding Adjustable Steel Welding Table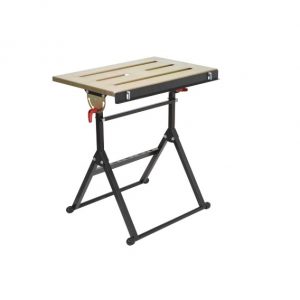 Check Price on Amazon
This Chicago Electric welding table is the budget-pick.
But, don't let the price deceive you.
It is a solid option and it can withstand a lot of abuse.
The table isn't flimsy and is suitable for daily use.
The length of the table is 30 inches, with a width of 18-7/8 inches.
Further, it weighs only 36 pounds but it can hold almost ten times its weight.
The heavy-duty steel construction contains zinc-plating and seems well-built.
Moreover, the trestle style legs are reinforced and improve stability.
Other good sides of the table include foldability, adjustability, and ease of use.
Besides, the table isn't difficult to assemble, and it will take you only a couple of minutes, if you understand the manual.
Check the current price on Amazon >>
Pros
Easy to use
Sturdy
High capacity
Foldable
Cons
The assembly instructions are somewhat complex

Michael's Take
This Chicago Electric table is proof that you don't have to invest too much money into welding gear to get great results.
With a weight capacity of 350 pounds, the table can withstand a lot.
>> Click here to see pricing, ratings, and reviews on Amazon.com <<
Check Price on Amazon
---
2
Strong Hands Tools Nomad Welding Table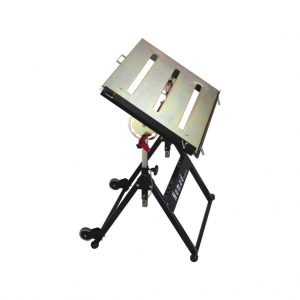 Check Price on Amazon
The Strong Hand welding table is portable and flexible.
Moreover, the table is damage-resistant and pretty flexible in terms of what you can do with it.
The table has a convenient size of 30 x 20 inches, but when you fold it, the table gets really compact.
You can also adjust the height of the table from 20 inches to 32 inches max.
Further, it can handle 30 degrees in angle and hold 350 pounds of load.
This Strong Hand welding table is versatile, and you can use it with another table to create a larger working surface.
Moreover, the table has two casters, so it makes it easier to carry heavy things around.
Besides, the table is easy to use and adjust.
Check the current price on Amazon >>
Pros
Adjustable height
Easy to use
Weighs only 44 pounds
Has two casters
Portable
Cons
When working with the light objects, the table gets a bit unstable

Michael's Take
The stability of this Strong Hand welding table depends on the weight of the objects you are working with.
If you are working with heavy objects, you won't even notice this issue.
>> Click here to see pricing, ratings, and reviews on Amazon.com <<
Check Price on Amazon
---
3
Miller Electric ArcStation Workbench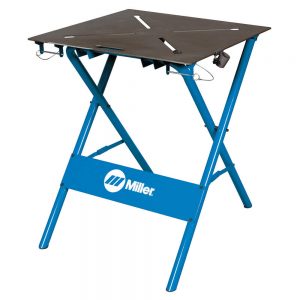 Check Price on Amazon
The Miller Electric workbench is suitable for different tasks, and welding is just one of them.
It is a bit more expensive, but the quality and durability justify the price.
The workbench is 35 inches tall when unfolded, and has a high weight capacity of 500 pounds.
Further, the workbench has X-pattern legs to improve stability and to help the table remain sturdy.
Moreover, it allows the user to clamp the metals on the surface easier.
This Miller Electric workbench is portable and foldable.
Additionally, it comes with interesting and useful features such as a gun holder.
The workbench is durable and can withstand years of heavy-duty use without showing signs of wear.
The top features real plate steel for better temperature protection.
Check the current price on Amazon >>
Pros
High weight capacity
X-pattern legs
Durable
Heavy-duty construction
Versatile

Michael's Take
If you are looking for a quality table to invest in, I strongly recommend checking this Miller Electric one.
It will serve you well and serve you a long time for various projects.
>> Click here to see pricing, ratings, and reviews on Amazon.com <<
Check Price on Amazon
---
Best Welding Tables Buying Guide
Let's go through the most important factors related to welding tables.
Once you understand what makes a good welding table, you will be able to recognize it and get the best table for your money.
Materials
The welding table will be exposed to heat all of the time.
Therefore, you should consider only a table made from heavy-duty steel, resistant to corrosion and rust, and able to withstand a lot of heat.
Additionally, analyze the leg construction.
The legs should be thicker than one inch to be sturdy and hold heavy objects.
Adjustability
Before you get your hands on the welding table, find out how many times you can adjust the ankle.
If you are a welder, you should have free access to the object that you are welding.
The table that can be angled is convenient.
But, some tables have only or two angles available, while those more expensive can have more.
Weight Capacity
The table should provide a stable base for the objects you usually work on.
Therefore, find a table that can hold at least 350 pounds without compromising stability.
Hobbyists who know that they won't work on heavy things can get an affordable welding table with a fewer weight capacity.
Portability
If you need to carry your welding table on the worksite or you don't have that much space for storage, consider a foldable table.
Casters are also useful for moving the table from one location to the other.
Clamping Slots
Check if the table allows you to clamp the metal down and hold it in place.
It is a very useful option that will ensure precision.
Frequently Asked Questions About Welding Tables
Let's answer some of the questions people often have about welding tables.
What is the Purpose of a Welding Table?
Welding tables provide more height so it is easier to weld at your waist level.
That way, the welding table reduces the need to bend down and fatigue, back pain, and welding metals together are much easier.
Additionally, when you weld on a welding table, you have more stability and you can measure and square your materials easier.
Besides, a welding table can work as a shelf or storage space for your tools.
What is a Good Size for a Welding Table?
The best welding tables are 36 x 60 inches.
It is the size that can accommodate a lot of different welding projects.
But, when buying a welding table, you need to consider your needs.
If you often work with larger objects, make sure to get a table that is large enough to hold it.
Tables that can be joined together for creating a larger working surface also a good choice.
What Should a Welding Table Be Made Of?
The best material for a welding table is steel.
The top of the table should be at least 3/8 inches of thickness.
For example, if you want a durable table, you can get one with a carbon steel top.
The legs must be thick and sturdy to hold the weight, and angle iron is a suitable choice for leg material.
---
Conclusion
All of the reviewed welding tables deserve your attention.
However, you should assess your needs to be able to find the one that is just right for you.
For example, if you need a reliable and durable welding table, you can get the Miller Electric Workbench.
It does cost a bit more money, but it is worth it.
If you need a portable welder, I recommend the Strong Hands Tools welding table.
The table is great for those who often switch locations and need their work gear to be with them.
It is fairly priced, lightweight, and sturdy, so it makes a safe buy.
People who are hobbyists can enjoy the Chicago Electric welding table.
The table is inexpensive but durable.
It might not have some fancy features, but it has needed stability and adjustability for a variety of projects.