Oklahoma City is one of the largest and most developed cities in the whole country.
The city and the whole state have a great economy that provides constant jobs and opportunities.
The schools, colleges, and universities are great and they offer some of the best programs in the whole state.
Welders annual average salary in Oklahoma is $37,161 - ABOVE U.S. AVERAGE!
Tulsa Welding School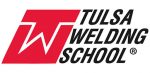 About the School
Tulsa Welding School is the ultimate place to study this industry field.
The school has many amazing teachers and trainers that are former or active professionals in this field.
All the materials and resources are developed with the help of these trainers and with the input from some of the best educational professors in the state.
Courses Offered
The Professional Welder program starts by helping students learn what it's really like to be a welder, which is in interactive workshop courses and welding booths.
In as little as seven months, you'll be trained in structural welding, fluxcore welding and pipe welding.
You'll also be prepared to excel in job interviews and weld tests for various welding certifications.
Besides this, there are also other welding and pipefitting levels of education that will grant you some of the highest-paid jobs in the industry.
Visit School Website

Address: 2545 E. 11th Street Tulsa, OK 74104
Mid-Del Technology Center

About the School
At Mid-Del Technology Center you will find the best community and teachers in the whole state.
The college is proud of its alumni who are now some of the most respected professionals and it is ready to offer you the perfect environment to grow.
The resources, labs, classes, and dorms are amazing and you will have lots of leisure activities here.
Courses Offered
The welding program is made of 900 hours of classes and labs that will teach you everything you need to know.
The program prepares students to do quality structural welding in construction or in the petroleum industry.
Instruction includes welding theory, fabrication, layout, print reading, welding symbols, math and welding codes with specialized instruction in Shielded Metal Arc Welding (stick), Gas Metal Arc Welding (MIG), Flux-cored Arc Welding (FCAW), and Gas Tungsten Arc Welding (TIG) techniques.
This major offers specialized preparation for structural certification by the American Welding Society.
Visit School Website

Address: 1621 Maple Dr Midwest City, OK 73110
Moore Norman Technology Center

About the School
Moore Norman Technology Center opened its doors a long time ago with the goal of educating as many people as possible in the beautiful technology and vocational field.
The programs available here are among the best in the whole region and they are delivered in a very modern and future-oriented strategy.
Courses Offered
The welding program is excellent and you will quickly be able to achieve the certificate diploma.
The Welding course highlights include the following:
Manipulate molten metal and electricity to design and construct the products people use every day
Use a wide range of welding techniques to join, cut, and bend metal for industrial applications
Build, assemble, and repair metal projects operating advanced welding and fabrication equipment used by professionals
The program can be done in a matter of a few months and it includes theory, practice, and everything you need to know about this field.
Visit School Website

Address: 4701 12th Avenue NW Norman, OK 73069
Eastern Oklahoma County Technology Center

About the School
With some of the most professional and warm teachers available, Eastern Oklahoma County Technology Center is a great place to study.
The college has very modern resources and materials that will aid you during the educational process and the teachers will help you with everything you need.
In addition, the college can also assist you with financial planning.
Courses Offered
The welding program is high-ranked and it can be done in several manners.
You will be able to choose from pipe-fitting welding, combination welding, and structural welding.
Students learn from dedicated experts and professional instructors to develop practical knowledge and skills that prepares them for entry-level positions in the field.
Visit School Website

Address: 4601 N Choctaw Rd Choctaw, OK 73020
---
Welding Schools by City in Oklahoma
See all schools in Oklahoma >