There are so many options for stick welders, commonly referred to as arc welder, so finding the best one can be challenging.
If you are not familiar with all technical specifications, deciding on a stick welder can be even more challenging.
Therefore, you can continue reading the reviews that will simplify your quest for the best stick welder.
Both newbies and professionals can refer to the list and reviews to find what they need exactly.
Stick welders are supposed to be durable, smooth, and powerful.
The reviewed products are from a wide price range, have different AC/DC electric output and power ratings.
Therefore, there is something for everybody, and as a plus, you can continue to the buying guide and learn more about stick welders.
Highest Rated Best Cheap Stick Welders (by Customer Reviews)
---
1
Best Budget Option - Arc-160D by Amico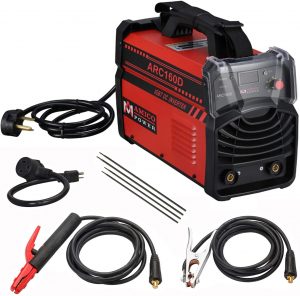 Check Price on Amazon
The Arc-160D is the best pick if you are buying on a budget.
It is a light and portable stick welder, that can be used for a variety of lighter home process.
The stick is versatile and has a smooth performance.
Moreover, the welder is portable and easy to use.
It has amperage ratings of 20-160 amps and can be used on moderately thick metals.
Next, it has great safety and protective features, as well as good arc stability.
Furthermore, the device ensures smooth weld and reduces spatter and cleanup.
One of the downsides it complex amperage settings.
Check the current price on Amazon >>
Pros
Budget-friendly
Portable
Reduce airborne contaminants from the power source
Has a fan
Cons
When used on metals  gauges and above, adjusting the amperage is challenging

Michael's Take
If you need a home stick welder, this one is an excellent choice.
It won't break the bank, but it will get every house job done simply.
>> Click here to see pricing, ratings, and reviews on Amazon.com <<
Check Price on Amazon
---
2
Best Quality - Hobart Stickmate 210i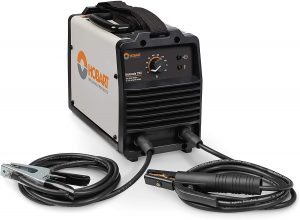 Check Price on Amazon
The Hobart Stickmate 210i is one of a high-quality welder that provides smooth and strong performance.
It is excellent for plenty of DIY projects and metal art, for farm, regular shop maintenance, and repairs.
The welder is portable and light weight but is more suitable for experienced welders than beginners.
It has a 5-year industrial warranty and employs DC operation.
Therefore, it offers quicker starts with clean beads, less spatter, and easier welding.
Moreover, it has a superior arc control and works better with thinner metal.
The welder is rated at 210 amps and can weld 5.32-inch thick steel.
Additional features include fine-tune settings of the heat output, Hot Start technology, etc.
Check the current price on Amazon >>
Pros
Reliable
Versatile
Compact – doesn't need much storage space
Infinite amp control

Michael's Take
Hobart is a synonym for quality, and this welder has great performance.
If you want to invest in a durable and versatile welder, this one makes an excellent choice.
>> Click here to see pricing, ratings, and reviews on Amazon.com <<
Check Price on Amazon
---
3
Best Overall - Lincoln Electric K1170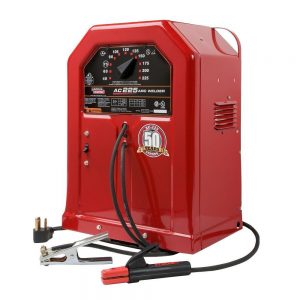 Check Price on Amazon
The Lincoln Electric K1170 is the best arc welder, and suitable for the majority of people.
The welder has outstanding performance, is versatile and user-friendly.
Moreover, the price tag is moderate.
It can be used for plenty of tasks, such as small repairs around the house, light fabrication projects, more advanced repairs, etc.
Further, the welder is very powerful with a wide amperage rating from 40 to 225 amps AC.
Therefore, it can be used for carbon steel, cast iron, low alloy, stell, etc.
Lastly, the design is convenient, so the welder is easy to use and set.
The product has a 3-year warranty as well.
Check the current price on Amazon >>
Pros
Straightforward controls
Wide amperage ratings
Versatile
Helps you to complete a variety of tasks on different metals

Michael's Take
With the price tag, the performance, and the user-friendliness, this Lincoln Electric welder is truly the best arc welder you can find at the moment.
It is also suitable for beginners.
>> Click here to see pricing, ratings, and reviews on Amazon.com <<
Check Price on Amazon
---
Best Cheap Stick Welders Buying Guide
If you still need a bit of help with deciding on the arc welder, there are a few things to consider.
It is the purpose of this buying guide – to help you pick the best welder for your needs.
AC/DC Current
AC stands for Alternating Current, and DC stands for Direct Current.
While AC welders are more affordable, DC welders have a smoother operation.
In general, DC welders are commonly used in welding for several reasons.
For example, the DC option has a quick hot start and run smoother.
They also provide less spatter.
On the other hand, AC welders are suitable for the majority of home DIY projects and repairs.
Therefore, hobbyists often choose AC welders.
Additionally, you can welders that supports both AC and DC.
Those are pricey and more suitable for professional welders.
Therefore, if you are a newbie in the welding discipline, you can choose an affordable and easy-to-use AC welder.
On the other hand, professionals can benefit from DC welders or dual welders.
Utility
Think in advance, what can of projects you will be using your welder for.
If you need the welder for smaller tasks around the home, you don't have to invest a lot of money in pricey, complex industrial-grade welders.
Also, think about the metal you will be using.
Therefore, make sure that the welder can be adjusted to work on different metals and different amperage settings.
Size
Check the size of a welder if you know you will be using it as a portable device.
If you need a portable welder, make sure it is lightweight and compact, so you easily carry it with you on different jobs.
---
Conclusion
The majority of people will be satisfied with the Lincoln Electric K1170.
It is one of the most powerful and durable arc welders and can be used on almost any metal type.
On the other hand, if you need something of exceptional quality and impressive performance, and you are ready to invest more money, you can get the Hobart Stickmate 210i welder.
It is pricier than other welders, but it is reliable and it offers numerous years of great service.
Lastly, if you need an arc welder for light tasks, you can get Arc-160D by Amico.
You can use it with soft metals and a variety of DIY projects and home repairs.