If you are a welder or you plan to start welding regularly to complete some home repair tasks, you need to be aware of the potential health effects of welding fumes and gases.
Some welders can experience short-term effects such as skin irritation, eye discomfort, dizziness, and nausea.
Welders who don't properly protect themselves from fumes can experience serious health effects after prolonged fumes exposure.
Those can include heart disease, lung cancer, etc.
Welding respirators can be really effective in protecting yourself from fumes.
Respirator filters harmful gases and fumes, so a person using it to inhale clean air.
You can find quality respirators masks on the market today.
To help you find the best respirator – fume breathing mask for respiratory protection, you can check the lists and reviews.
Highest Rated Best Welding Respirators (by Customer Reviews)
---
1
3M Rugged Comfort Quick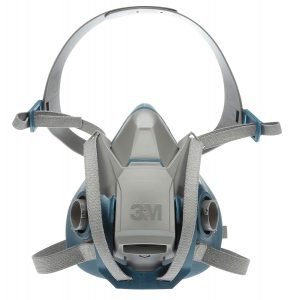 Check Price on Amazon
This 3M mask is definitely worth your attention for several reasons.
Due to resilient silicone material, the mask has a firm grip on your skin, but without making you tired sooner or causing you any type of discomfort.
The construction material allows you to secure a good seal.
Further, the mask has a Quick Latch mechanism to make removing the mask off much easier.
Also, the mask has a Cool Flow valve for better comfort while breathing.
Therefore, heat and moisture trapped inside the mask can get exhausted out.
The 3M mask features a low-profile half-face design and allows you to put your welding helmet as well.
The exhalation valve prevents the helmet and glasses from fogging up.
Check the current price on Amazon >>
Pros
Budget-friendly
Great at filtering harmful fumes
The convenient shape makes it comfortable for wearing long hours
Removes heat and excess moisture
Adjustable harness ensures a secure fit
Convenient quick-release function for pauses in wearing
Cons
The upper strap is placed too high

Michael's Take
This 3M mask is one of the most affordable options on the market.
It does a great job in protecting you from harmful fumes and gases, and is comfortable to wear.
>> Click here to see pricing, ratings, and reviews on Amazon.com <<
Check Price on Amazon
---
2
Breath Buddy Respirator Mask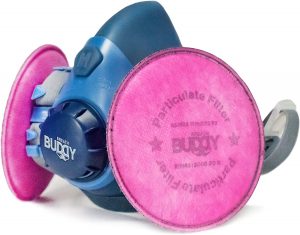 Check Price on Amazon
The Breath Buddy respirator has a high-efficient filter, with 99.95% of efficiency.
The mask has P3 filters that have been tested by CE standards and make the mask reusable.
Additionally, the mask has a cool air valve.
Therefore, the cool air can flow right in, and you won't experience any discomfort or sweating.
Because of the adjustable straps, the mask has s custom fit.
Moreover, the mask can be used for a variety of different purposes around the home.
It is also lightweight and looks stylish.
Check the current price on Amazon >>
Pros
Comfortable
Can be used for long hours
Prevents the glasses to fog up
The mask can be removed for drinking water without removing the neck strap
Efficiently filters the air
Stylish
Great customer service

Michael's Take
If you want to invest in a quality mask that can be reused over and over for various purposes, I recommend this Breath Buddy mask.
It does cost a bit more money, but it filters the air seamlessly.
>> Click here to see pricing, ratings, and reviews on Amazon.com <<
Check Price on Amazon
---
3
Miller Electric Half Mask Respirator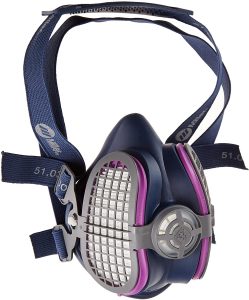 Check Price on Amazon
This Miller Electric half mask allows you to breathe easily.
The mask is compact and thin and can fit under welding helmets.
You don't have to worry about getting crowded under the helmet, because this mask offers great comfort and custom fit.
The mask has a non-return exhaust valve, for filtering harmful fumes.
Moreover, it uses an Ellipse HEPA air filter, that traps even the smallest harmful particles.
Check the current price on Amazon >>
Pros
High level of protection against Cadmium, Manganese, Aluminium an Lead
Fits under welding hoods
Doesn't cause glasses to Fogg up
The filter is easy to replace
Cons
Replacement filters can be expensive

Michael's Take
The Miller Electric mask is a durable and reliable mask that will keep you fully protected while completing any welding tasks.
It is compatible with other parts of PPE and very comfortable to wear.
>> Click here to see pricing, ratings, and reviews on Amazon.com <<
Check Price on Amazon
---
4
3M Half Facepiece Reusable Respirator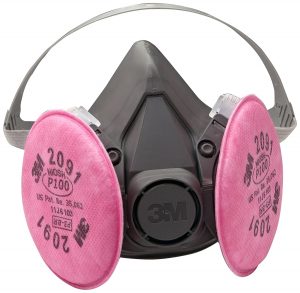 Check Price on Amazon
The 3M is known for its quality products, such as this well-built respirator.
It has particulate filter 2091 P102.
Therefore, the filter is quite effective in getting rid of even the smallest particles in the air.
With this mask, the risk of breathing harmful chemicals is almost non-existent.
The half-piece mask design is comfortable and suitable for long shifts wearing.
Therefore, you will experience less fatigue.
The mask touch to the skin is soft, and adjustable straps allow you to ensure a custom fit.
Check the current price on Amazon >>
Pros
The mask can be used for various purposes with oil and non-oil based particles
Easy to use and adjust
Prevents wearer fatigue
Offers full seal
Lightweight
Cons
Can cause glasses to fog up

Michael's Take
The 3M mask is suitable for a variety of purposes.
You can use it as a professional welder, or for small repairs around the home.
>> Click here to see pricing, ratings, and reviews on Amazon.com <<
Check Price on Amazon
---
Best Welding Respirators Buying Guide
First of all, there are plenty of welding respirators and mask you can find on the market.
Let's see what welding masks types exist on the market and what their characteristics are.
Disposable
People who always wear welding helmets usually use disposable respirators.
They are often lightweight and comfortable to wear under the helmet.
Advantages include zero maintenance, lightweight, simple usage, and allowing you to move naturally.
On the other hand, disposable masks might not have the best protection.
Also, the majority of disposable masks feature a generic sizing, which might cause fumes to pass by the filter.
Besides, if you are welding for long hours, you might need to change a few masks.
Reusable
A reusable mask is made from durable materials.
It has a filter that can be replaced when getting too dirty.
The majority of reusable masks are lightweight and easy to use.
Compared to disposable masks, reusable respirators provide more coverage and better fit.
One of the downsides includes having to main the filters and replace them occasionally.
Powered Air Purifying Welding Respirators
The third type of welding respirators is the type that is connected to the welding helmet via a hose.
It has a specific blower inside the respirator, that forces clean air into the purifier or respirator filter.
The powered air purifying welding respirators provide maximum protection and maximum coverage.
These cover eyes and the entire face.
Also, these can be made to fit your head better and feel more comfortable wearing them for long hours.
Additionally, the blown air has a cooling effect on the face.
However, these welding respirators are more expensive than the previous two types.
On the other hand, the costs will pay out in the long run.
Besides, don't forget to inspect and maintain the batteries as well.
How to Get the Best Welding Respirator
Let's see more tips on how to find the best respirator for your needs.
There are few things to have in mind that can help you pick the best model for your money.
Welding Environment
People who deal with heavy fumes on a regularly might need the best possible protection, as offered in powered air-purifying respirators.
On the other hand, those who weld occasionally can get several disposable welding masks for their needs.
Comfort
Welding respirators can cause you discomfort, especially if you need to wear them for several hours.
The respirator you buy needs to be comfortable enough to allow you to move naturally, and breath easily.
Also, you already have a hard work to complete, so why making it harder with an unsuitable mask.
Find the mask with an adjustable fit and wearing the mask can be more comfortable.
Filtering Ability
You need to check the mask for its efficiency to filter fumes and harmful chemicals.
Check the reviews for more insights into how capable the mask is to filter all fumes, gases and prevent you from breathing them.
Therefore, you will know if you are paying for ultimate protection or an overpriced item.
Durability
Welders use masks for a long time.
Getting used to a new mask can be difficult, but once you get used to it, you will wear it for a long time.
Therefore, find a mask that can withstand force and a long time of use.
A proper mask needs to be durable enough and last for several seasons.
Of curse, you will have to replace filters and/or batteries in the meantime.
---
Conclusion
Welding is challenging and potentially harmful.
That is why it is important to have the best and most comfortable PPE on sight.
The list of best welding respirators can help you to weld safely without having to worry about discomfort and harmful chemicals.